Burnaby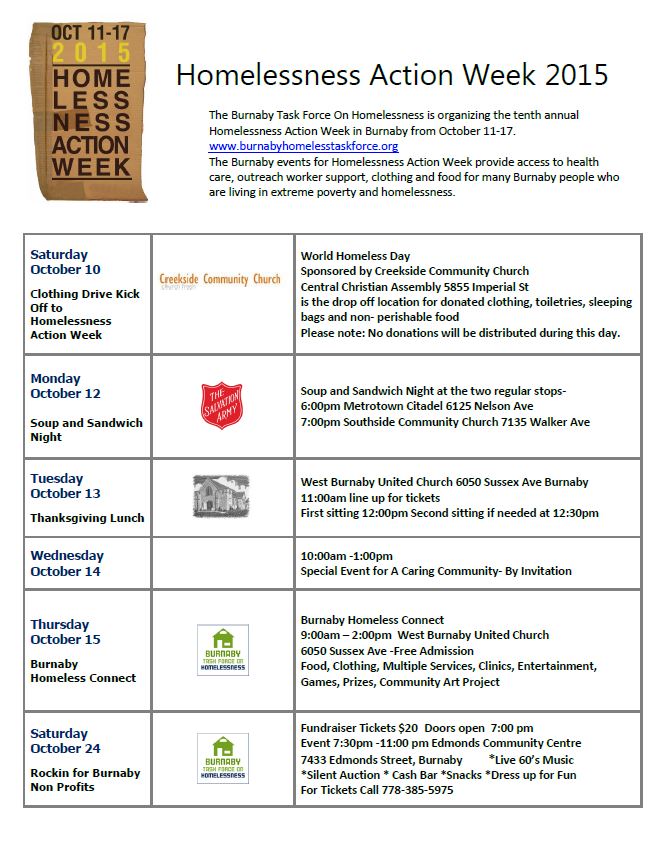 Surrey
City of Vancouver
To find out about the many HAW events occurring in the City of Vancouver, please visit http://vancouver.ca/people-programs/homelessness-action-week.aspx"
Richmond
Thursday, October 22nd, 2015
Richmond Homeless Connect Event
St. Alban's Anglican Church, 7260 St. Alban's Road, Richmond Homeless Connect
9:00 Pancake Breakfast
10:00 am until 2:00 pm Connect Event (includes haircuts, dental care, medical care, bike repairs, hygiene kits, lunch, snack to go, clothing and information from local service agencies)
 New Westminster 
Monday October 12
12:00 pm – 1:00 pm Thanksgiving dinner by Union Gospel Mission (UGM), 658 Clarkson St.
Tuesday October 13
9:00 am – 12:00 pm Connect Day at Holy Trinity Cathedral, 514 Carnarvon St. – a morning designed to give people who are homeless access to a wide range of free information and services surrounding housing, health and wellness, and other support services, all under one roof – we expect to have over 20 different agencies in attendance.
Wednesday October 14
7:00 pm Interfaith meeting at St. Barnabas, 1010Fifth Ave. – talk/discussion on this year's Homelessness Action Week theme "Can you see me?"
3:00 pm – 7:00 pm Art show at the Russell Housing Centre, 740 Carnarvon, lower level
Thursday October 15
8th Annual Fundraiser and Silent Auction at the Columbia Theatre, with guest speaker Judy Graves – doors open 5:30, buffet dinner 6:30
Friday October 16
Movie Night will take place at the Rhoda Kaellis Residence, 1105 Royal Ave. in New Westminster from 7-10.
Snacks will be served.