The Greater Vancouver Regional Steering Committee on Homelessness has been sponsoring Homelessness Action Week since 2006. 
The 2012 Homelessness Action Week was October 7 – 13.
There are numerous resources available to organizers including posters, manuals and a toolkit. You can find these materials under 'resources'.
Also, checkout our blog newsletter for organizers. Are organizing an event or activity and need some advice from seasoned organizers? Check our  forum where you can post a question or comment.
The Provincial Government Proclaims Homelessness Action Week 2012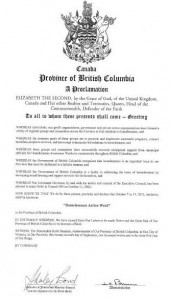 "Whereas individuals, non-profit organizations, government and private sector representatives have formed a variety of regional groups and committees across the Province to find solutions to homelessness, and
Whereas the common goals of these groups are to highlight successful programs, connect homeless people to services, and encourage community-led solutions to homelessness, and
Whereas these groups and committees have successfully received widespread support from municipal officials for Homelessness Awareness Days in communities across B.C."…