Green Graffiti for Homelessness Action Week
This year we are incorporating a new guerilla marketing technique – "green graffiti" to raise awareness about homelessness. Using a power washer and a stencil, communities can leave a message that stays visible for up to six months. It's cheap and effective – all you need is access to a power washer.
A limited number of 4' stencils are available for communities in BC and can be obtained by contacting us. Alternatively, you can download our PDF complete with material specifications and instructions for use. This file is all your sign shop needs to produce your stencil locally.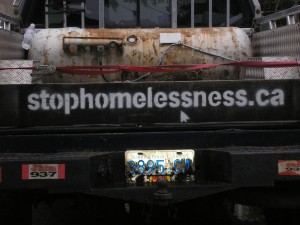 Find a power washer – try your local community centre or one of your partner agencies, if not a local equipment rental business will have one.
Tips
– Rent the least powerful washer (we don't want to remove anyone's paint!).
– Smooth surfaces such as concrete sidewalks are best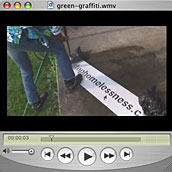 Watch this brief video clip (1.1 MB) to see the stencil in action. It gives you a great idea of how simple, fast and effective this is.
Credits: Video production: Production Magic and creative direction: Design HQ for Ethos Strategy Group on behalf of stophomelessness.ca