Project Homeless Connect Manual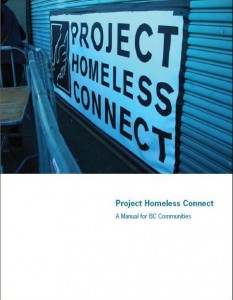 Project Homeless Connect days are special events designed to give people who are homeless access to a wide range of health and other support services all under one roof.
This manual is intended to assist community organizers in British Columbia who are planning a Homeless Connect event.  The manual provides basic organizational information as well as helpful hints and checklists that can be used to help the event go smoothly.  It is a resource that can be widely shared with volunteers and service providers to help them understand the Homeless Connect concept and what it is they are being asked to do.
Click here to download Project Homeless Connect – A Manual for BC Communities.
The manual references some customizable forms and templates please contact Ethos Strategy Group at info(at)ethosstrategygroup.com and we will e-mail the templates to you.
A one-stop model that focuses on the needs of the homeless
The Vancouver Sun | Monday, October 13, 2008
Read this opinion editorial by Homelessness Action Week organizers Sue Noga, Helesia Luke and Catherine Evans.
On a Thursday afternoon in early June, in a warehouse the size of a football field on San Francisco's Pier 48, we were among dozens of volunteers who ran computer wiring, set up medical examination screens, arranged tables and chairs, and assembled hygiene kits by the hundreds.
On Friday at 10 a.m., Mayor Gavin Newsome arrived and welcomed the invited guests, many of who had been waiting patiently for several hours. When the doors closed at 5 p.m., 975 of San Francisco's homeless had come inside and received a wide variety of services, many of which are next to impossible to access on the street.
The City of San Francisco developed this one-stop model of serving people who are homeless in 2004 and called it Project Homeless Connect. Its primary goal is "to provide easy access to services that support the transition of the city's homeless off the streets and into housing."
It brings together government services, not-for-profits, private businesses and individual volunteers in a concerted and coordinated effort to do something about the hundreds of people living on the streets of that city.
The range of services offered at a Connect event varies with the resources available in a community. In San Francisco, more than 25 different services were available. These included dental care; general medical care; massage; veterinary services; ID provision; haircuts; eyeglasses; chiropractic treatments; foot treatments; legal aid; long-distance phoning; letter writing; de-bugging (for bed bugs); food services; food bank supplies; addiction counselling; mental health counselling; employment assistance; and housing and shelter services.
Outcomes from Project Homeless Connect challenge the myth that people who are homeless do not want help and prefer to be on the street. The data collected in San Francisco and elsewhere provide proof that when people are approached in a kind and respectful manner, and with available and appropriate resources, they are eager to accept help towards self-sufficiency.
More than 106 cities across the United States, as well as Canada, Puerto Rico and Australia, hold events based on the model of Project Homeless Connect and show there is no shortage of community support for solving homelessness.
Although the particular event we attended was small by San Francisco standards (they were trying out a new location), there were still more than 700 community volunteers in attendance. Almost half were from Deloitte & Touche, which closed its offices for the day so that everyone from senior executives to mail clerks could attend.
Sadly, the piece of the homelessness puzzle that Connect events cannot solve is the creation of more affordable housing. Housing and shelter providers do what they can, and in San Francisco where it was openly acknowledged that no housing was available, 48 people were helped to find at least temporary accommodation.
But hundreds more were left to fend for themselves in a housing market with less than 0.1 per cent vacancy. Some of them, who were connected to a source of income such as disability or veterans' benefits, might be able to find something on their own. The majority, however, like the majority of homeless people in Vancouver and the rest of B.C., haven't a hope of securing a place they can afford to rent.
This year in British Columbia there will be Connect events taking place in more than a dozen communities during Homelessness Action Week, Oct. 12-19. Some are happening for the first time, while others are building on a past record of bringing services together to meet the needs of people who are homeless.
The Connect model works. It connects people who are homeless to community and to the basic services most of us take for granted.
But until there is sufficient, affordable housing available it can only take us part of the way to solving homelessness.