Social Media Toolkit
Use this toolkit to spread the word to friends and followers about Homelessness Action.
Trouble with the online version? Download the simple PDF version of the Social Media Toolkit.
Print Media Toolkit
Download the campaign posters and HAW 2014logo to display locally in your communities and online.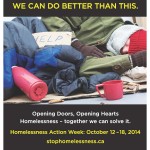 Previous campaign posters from HAW 2013
Teaching

Guides
Teaching students about homelessness gives them the opportunity to gain more in-depth knowledge about the problem, to explore and clarify their views about homelessness, to develop a sense of empathy and justice, to understand that they and society have a responsibility as citizens of a democracy to contribute to ending homelessness, and to understand that policy tools exist to reduce homelessness.
Use these guides to bring awareness of homelessness into the classroom.
Grade 6&7 Teaching Guide
Grade 11&12 Teaching Guide
Political Action Kit
Developing political will is a crucial step in solving homelessness. Use this toolkit to help you understand the issues, gain insight into where the political parties stand on homelessness issues, and to become familiar with the meaningful actions you can take to influence political will on homelessness issues in Metro Vancouver.
Connect Event Manual
Connect Events are an important part of each annual Homelessness Action Week. These events are designed to connect homeless people in each region of Greater Vancouver with supports and services in their community that can help. This guide outlines the process and procedure for running a regional Connect Event.