2012 Community Homelessness Tables Forum: Resources and Materials
This event aims to offer participants learning opportunities, updates on community-level progress in ending homelessness, and sharing future priorities in ending homelessness throughout Metro Vancouver.
The RSCH develops this event in concert with the Chairs of the Community Homelessness Tables, and is in line with the organization's strategic priority to support information sharing among community partners.  The planned results of the gathering includes sharing of relevant partnership strategies, building capacity among the Tables, and to use community feedback gathered to inform the update of the Three Ways to Home Regional Homelessness Strategy.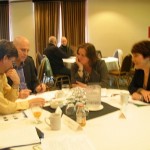 Three types of documents are provided below:
1.  Presentations of the Sub-Regional Community Homelessness Tables
2.  Storytelling Workshop Presentation and Resources
3.  Report Summarizing Event Presentations and Discussions
 Documents:
1.   Presentations of the Sub Regional Tables                   
Richmond Homelessness Coalition
Tri‐Cities Homelessness Task Group
North Shore Homelessness Task Force    Penninsula Homelessness To Housing
Burnaby Homeless Task Force      Surrey Homelessness and Housing Task Force
New Westminter Coalition Homelessness Society
Renfrew Collingwood Homeless Committee & Frog Hollow Neighbourhood House
2.  Storytelling Workshop Presentation and Resources
Storytelling for Good Workshop Slides. Ethos Strategy Group
Storytelling for Good Workshop Interview Handout. Ethos Strategy Group
Storytelling for Good Workshop- Partner Interview Scenarios. Ethos Strategy Group
Storytelling Best Practices Websites. Ethos Strategy Group
3.   Report Summarizing Event Presentations and Discussions
2012 Forum of the Community Homelessness Tables: Event Report