Renewing Leadership on Homelessness
RSCH Community Information Session: Collective Decision-Making to End Homelessness
 (Q & A period not recorded, but transcribed below)
Those interested in learning more about the RSCH, the governance transition, and membership recruitment, are advised to watch the RSCH Community Information Session, held at Metro Vancouver offices on March 27, 2013.  The speakers address regional coordination to end homelessness and answer questions about the transition to a new Committee structure.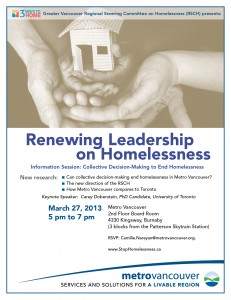 Keynote speaker:
Carey Doberstein
Associate Editor
Journal of Federal Governance
University of Toronto
Speaker Bio:
Carey Doberstein is a PhD candidate of Political Science and Public Policy at the University of Toronto.  In 2008, he graduated with a Masters of Public Policy from SFU and prior to that completed undergraduate studies at UBC.  His research interests include network governance, federalism, and homelessness policy, all of which are the focus of his forthcoming dissertation, which explores the relationship between local governance networks and homelessness policy development in Vancouver and Toronto from 1995-present. His research has been published in Canadian Public Policy, the Journal of Urban Affairs (USA), and is forthcoming in Canadian Public Administration.  
Question and Answer Transcript (Not part of video recording)
Question 1: The presentation included a slide that showed the number of shelter beds and supportive housing units in 1995 for Toronto and Vancouver.  Do you have a similar slide to show the current data for these cities, and the different approaches these cities have taken to address homelessness?
Answer :
Carey: In 1995, there were about 500 shelter spaces in Metro Vancouver and 85 % were in the City of Vancouver.  At present, there are about 1,500 shelter spaces in Metro Vancouver and only about 75% are in the City of Vancouver.  This means that over time, Metro Vancouver has been spreading out services – as intended – towards the regions; and that the local municipalities are acknowledging their role in addressing homelessness.  The City of Toronto started off in a similar situation, with most of the shelter beds located in the core area of the City of Toronto.   At present, 85% of shelter spaces are located in this part of the City. Unlike Metro Vancouver, there has been little or no acknowledgement that homelessness services are needed outside the city core.  For example, Toronto's current mayor indicated in the recent electoral campaign that it would be an insult to his constituents in Etobicoke, to imply that it needed a shelter. Hence in Toronto, the perception remains that homelessness is a downtown core problem – not a regional issue.
 Staff note:  A current inventory of facilities and services is being prepared, which will show the total number of shelter beds, supportive housing units, and other services and facilities for people who are homeless throughout Metro Vancouver.  For more information please inquire with rsch@metrovancouver.org.  
Question 2:  Our organization is a Residents Association in the Downtown Eastside.  The vast majority of our board members have been homeless or lived in a homeless shelter in the last few years.  Would you recommend that an organization such as ours be a member of the RSCH?
Answer:
Carey: Yes.  I think it is very important to include individuals with lived experience of being homeless.
RSCH Co-Chair: Yes.  The RSCH would be looking for individuals with lived experience to participate as general members and to participate on advisory groups.   
Question 3: Has the RSCH engaged in any partnerships with the prison community – or local prisons – to help make the transition from the "the inside" to the "outside" less traumatic? A lot of people find themselves homeless when they get out of jail.  Often, they are given a bus ticket to travel back to where they offended, and are basically left on their own.  I am aware of some cross -ministry service projects between BC Housing and corrections services, but does the RSCH do any work with people from the prison community?
Answer:
RSCH Co-Chair: The RSCH has been working to address this issue.  In the 2011 homeless count, we reached out to corrections services to determine the number of people who had no fixed address.  In addition, the RSCH funds community agencies that provide services to individuals who are homeless upon their release from prisons or jails – including the Elizabeth Fry Society and John Howard Society.
Staff: The RSCH is aware of the need to improve discharge planning to prevent homelessness.
Question 4: How does the RSCH compare to other Community Advisory Boards besides Toronto?  Looking ahead, do you suspect other groups or municipalities will use your study to change their decision-making process?
Answer:
Carey: My dissertation is limited to analyzing Toronto and Vancouver.  I do know, however, that there are some innovative practices in Calgary that are serving as models across the country.  Perhaps in the future, I could provide examples of innovations from Calgary, Ottawa and Victoria.
I focused my dissertation on Toronto and Vancouver because of the contrast between  the two examples. Toronto's Community Advisory Board is more of a focus group for the city rather than a community-based network.  Metro Vancouver provides a good case study that demonstrates the power of collaborative decision making and the effect it can have.
Question 5: In light of last week's announcement on the continuation of HPS funding and the refocusing on Housing First, will this play a role in your analysis of how Vancouver compares with Toronto? And how will the new focus on Housing First affect the RSCH?
Answer:
Carey:  One thing that I heard from former RSCH Members is that over the years, there has been a bias, to some extent, in favour of funding services, rather than bricks and mortar.  One reason is that when federal funding for homelessness was first available, Vancouver did not have many services to address homelessness.  There was a sense that the service system needed an injection of funding.  The fact that there was more capital investment in Toronto does not mean that decisions were made erroneously here; or that we wasted money on services when we could have built homes.  Toronto's approach is consistent with Housing First – which will be the federal government's priority in the next iteration of the Homelessness Partnering Strategy.  However, Housing First does not necessarily mean building new housing.  The Street to Homes program in Toronto provides rental subsidies to clients rather than building new affordable housing.  One of the critiques of this approach is that most people can't afford to live in the downtown core where most services are.  As a result, people are forced to move out of the downtown core – where most of the services are located.  Another critique is with the approach of subsidizing existing units rather than building new affordable housing units.  So, although Housing First is in place in Toronto – there are differences of opinion as to whether it is the appropriate model.  
RSCH Co-Chairs: The new RSCH governance structure will provide an effective forum for discussing the implications of moving to a Housing First approach.   This issue will be addressed as part of the consultation process for updating the Regional Homelessness Plan. We may find that Housing First is not the solution to this region, although it is more likely we'll find innovative and creative ways to respond to the federal government's new focus.
Question 6: Shouldn't the homeless count direct, to a large degree, how we direct funding – since it provides us with information about the nature of the homeless population in the region? 
Answer: 
RSCH Co-Chairs:  Information from the homeless count has been used to a certain extent in guiding decisions and setting priorities about funding allocations. 
Carey: It should be noted that there's a perception that Vancouver receives a disproportionate share of HPS funding.  Looking at the homelessness count data, however, about 60 % of the homelessness population is found within the boundaries of the City of Vancouver, whereas Vancouver receives about 45% of the funding.  This demonstrates the way in which the RSCH has worked to distribute the available funding throughout the region.  
Question 7:  What is your prediction for the new RSCH structure – will it be more successful in being able to respond to new issues? Will it present more challenges?  What is your dream for the new governance structure and what do you think the impact will be?    
Answer: 
Carey: Over the years, the RSCH membership grew – but, in recent times, membership has declined.  I think the new model will be a success because it provides a more streamlined decision-making process while also acknowledging the need for a diverse group of actors to be at the table.  The new structure will also achieve a balance between government and community-based participants.  The HPS was originally intended to be a community-based program – to harness the perspectives and diversity of the community. The new structure is designed to facilitate greater involvement by community agencies.
RSCH Co-Chairs:  Regardless of our structure, the RSCH will always be driven by the vision to end homelessness.  This is where people rally – and this is the passion of the people in this room and elsewhere. So, if we can bring more people in who share this passion, that's great.   I see our new structure as a tool – but the vision will remain the same..
What I see as the greatest improvement in our new structure is the increased ability of the community to have input through the broader membership.  It was always a concern to me that there were people working in homelessness who were not able to participate as members.  With the current structure, that won't be the case.  Everyone is eligible to be a member.  The RSCH will be more inclusive than in the past.  At the same time, however, the decision making process will be more efficient.   Members of the Constituency Table will not be representatives of their sectors, but they will be expected to bring their knowledge and expertise to the decision-making process.  Our goal has been to get as much knowledge to our table as possible, and I think we've found a way to achieve this.
Question 8:  I understand that the deadline for applying for membership is April 19th.  Will there be another opportunity to apply?
Answer:
Staff: In order to have a manageable membership recruitment process and for recruitment to take place prior to the all-members meeting May 15th, we have established a deadline of April 19th for this year.   We haven't decided when the next opportunity will be for groups to apply for membership.   It will be at the discretion of the Constituency Table to determine when the next opportunity will be to apply for membership.   Right now, we don't know when this will be.   
Question 9:  Is there a maximum number of applicants who will be accepted as general members?
Answer: 
Staff: No.
Question 10: Are local community homelessness tables guaranteed a spot in the general membership?
Answer:
Staff: Yes.  There is no limit to local community homelessness tables' enrolment in the general membership.  At the Constituency Table, local community homelessness tables have one guaranteed seat.
 Transcribed by Heather Stack.