2016-2019
H
omelessness Partnering Strategy
Request for Qualifications
(La version française suit)
The Homeless Partnering Strategy (HPS) is a community-based program aimed at preventing and reducing homelessness by providing direct support and funding to 61 designated communities and to organizations that address Aboriginal homelessness across Canada.
http://www.esdc.gc.ca/eng/communities/homelessness/index.shtml
The program is funded by the Government of Canada and is administered at the local level by a Community Entity approved by the federal Government. Through an Agreement with Canada, the Greater Vancouver Regional District (Metro Vancouver) is the Community Entity (HPS CE) for the Metro Vancouver region and manages the Call for Proposals process in partnership with the HPS Community Advisory Board (CAB).
In accordance with the HPS Terms, Conditions and Directives and the CAB approved HPS Community Plan, through a two-stage process – Request for Qualifications (RFQ) and Request for Proposals (RFP) – the HPS CE seeks to award HPS funds for the period of October 2016 to March 2019 for one or more of the following proposal types:
• Housing First
• Non-Housing First
• Regional Initiatives
• Capital
Please click here for the online RFQ Form 2A, General Guide I and General Guide II:
http://www.metrovancouver.org/services/regional-planning/homelessness/RFQ-RFO-2016/Pages/default.aspx
The Request for Qualifications (RFQ) deadline for response is 12:00 pm, May 16, 2016.
---
Stratégie des partenariats de lutte contre l'itinérance pour 2016 à 2019 – Demande de qualifications
La Stratégie des partenariats de lutte contre l'itinérance (HPLI) est un programme à base communautaire qui a pour objet de prévenir et réduire l'itinérance en fournissant un soutien direct et un financement à 61 communautés désignées et à des organismes qui s'occupent de l'itinérance des autochtones à l'échelle du Canada.
http://www.esdc.gc.ca/eng/communities/homelessness/index.shtml
Le programme est financé par le gouvernement du Canada et il est administré au niveau local par une Entité communautaire approuvée par le gouvernement fédéral. Par l'entremise d'un accord avec le Canada, le Greater Vancouver Regional District (région métropolitaine de Vancouver) est l'Entité communautaire (EC de la HPLI) pour la région métropolitaine de Vancouver et elle dirige le processus de l'Appel de propositions en partenariat avec le Conseil consultatif communautaire (CCC) de la HPLI.
Conformément aux modalités et directives de la HPLI et au Plan communautaire de la HPLI qui est approuvé par le CCC, dans le cadre d'un processus à deux étapes – Demande de qualifications (DDQ) et Demande de propositions (DDP) – l'EC de la HPLI vise à donner des fonds de la HPLI pour la période allant d'octobre 2016 à mars 2019 pour un et plus des types suivants de propositions :
• Logement d'abord
• Ne visant pas l'approche Logement d'abord
• Initiatives régionales
• Investissement
Veuillez cliquer ici pour le Formulaire 2A pour la DDQ, le Guide général I et le Guide général II qui sont disponibles en ligne :
http://www.metrovancouver.org/services/regional-planning/homelessness/RFQ-RFO-2016/Pages/default.aspx
2016-2019 Mises à jour relatives aux appels de propositions
L'échéance pour la réponse pour la Demande de qualifications (DDQ) est midi, le 16 mai 2016.
________________________________________________________________________________________
Regional Homelessness Plan (RHP)
This draft Regional Homelessness Plan (RHP) has been prepared by the Greater Vancouver Regional Steering Committee on Homelessness (RSCH). It will replace the RSCH's first regional homelessness plan prepared in 2001 and updated in 2003, known as 3 Ways to Home.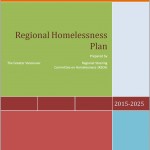 The goal of this RHP is to end homelessness in the Metro Vancouver region over a period of 10 years. To achieve this goal, the RHP is focused on 3 areas: Housing, Prevention + Support, and Capacity Building.
The RHP identifies indicators of success and targets to help measure success in achieving the plan's goal and objectives. It is proposed that the RHP be considered a 'living document' and that it be monitored every three years to determine if targets are being met and if they need to be revised.
Please find the most recent document here Draft 2014 Regional Homelessness Plan Sept 26 2014.jpg_
---
2014 Homelessness Action Week October 12 -18th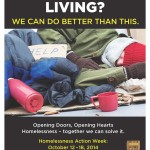 Homelessness Action Week is an annual event which focused on bringing public awareness and understanding to the issue of  homelessness in the Greater Vancouver region.
Homelessness Action Week was an opportunity to get involved in activities in your community.  Through spreading the word about homelessness action through education, advocacy, and social media activity the hope is to raise awareness to this very important subject which affects all our communities.
See what happened this year in these communities!Burnaby, Vancouver, Richmond, New Westminster, Surrey and Maple Ridge/Pitt Meadows!
n m
ory clickng ontheimages below.
---
---
On March 12, 2014, Metro Vancouver partnered with Community Homelessness Tables, municipalities, and about 1,000 volunteers to collect the data. More representative results are expected, with about 300 more volunteers than last time, and with the addition of a Youth Steering Committee for this Count.
The RSCH would like to know if you find this report useful and welcomes your feedback. Please let us know if you use the information and provide comments to: RSCH@metrovancouver.org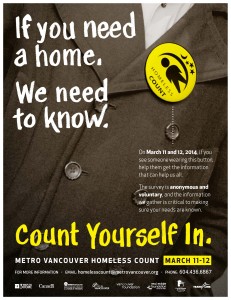 The Metro Vancouver Homelessness Count happens every 3 years and helps to better understand the numbers and characteristics of Metro Vancouver's homeless population. This information is important to service providers, planners, community groups, health authorities, municipalities and funders to assist with developing policy, planning, and prioritizing programs and services to address the needs of people who are homeless.
To view previous years reports please click here
________________________________________________________________________________________
Developed to assist other Canadian communities that are interested in adopting the Housing First approach.
Primarily based on the experiences of the At Home/Chez Soi project, we have assembled tools and resources that are practical and user-friendly for groups and communities interested in the Housing First approach. It is targeted to practitioners, planners, government policy-makers, researchers, and people with lived experience of homelessness and/or mental health working in the housing/homelessness sector, health/mental health sector, and stakeholders in related sectors.
---
elessns Action Week
Every October, on e week following Thanksgiving Monday.