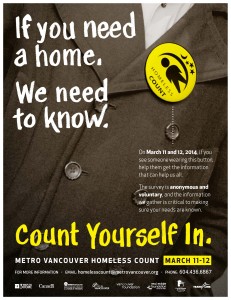 The Metro Vancouver Homelessness Count happens every 3 years and helps to better understand the numbers and characteristics of Metro Vancouver's homeless population. This information is important to service providers, planners, community groups, health authorities, municipalities and funders to assist with developing policy, planning, and prioritizing programs and services to address the needs of people who are homeless.
On March 12, 2014, Metro Vancouver partnered with Community Homelessness Tables, municipalities, and about 1,000 volunteers to collect the data. More representative results are expected, with about 300 more volunteers than last time, and with the addition of a Youth Steering Committee for this Count.
Want to know more? See our Key Message and FAQ's and Media Release.
View a video story about the 2014 Homeless Count here
For more information on the Homelessness Partnering Strategy, please visit http://actionplan.gc.ca/en/initiative/homelessness-partnering-strategy
Homelessness Action Week is an annual event focused on bringing public awareness and understanding to the issue of homelessness in the Greater Vancouver region.
Homelessness Action Week is an opportunity to get involved in homelessness action in your community by attending events, and spreading the word about homelessness action through education, advocacy, and social media activity.
Learn more by clicking on the images below.
Press releases:
8th annual Homelessness Action Week to draw attention to major issue of Invisible Homelessness in Metro Vancouver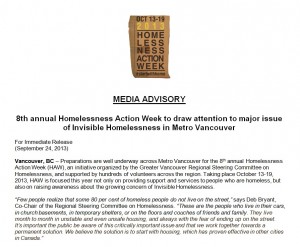 27/9/2013 : HAW 2013_FastFacts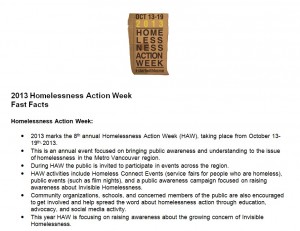 The Greater Vancouver   Regional Steering Committee on Homelessness is a coalition of community organizations and all levels of government. We believe that by working together, we can end homelessness in the Metro Vancouver area. Our work is guided by the Committee's Regional Homelessness Plan : Three Ways to Home.  Click here to download the Regional Homelessness Plan.