HOMELESSNESS PARTNERING STRATEGY (HPS)
2015 REQUEST FOR QUALIFICATIONS
(La version française suit.)
The Greater Vancouver Regional District, as the Community Entity for the Homelessness Partnering Strategy (HPS), in partnership with the Greater Vancouver Regional Steering Committee on Homelessness (RSCH), Community Advisory Board (CAB), solicits responses to the Request for Qualifications (RFQ) to implement Housing First Readiness activities. This is to establish a pool of qualified applicants for a subsequent Request for Proposals (RFP) to support the implementation of the 2014-2019 HPS Community Plan for the Metro Vancouver region. Under the RFP, funding may be proposed for any of the following Housing First readiness activities:
Determining the Housing First model (within HPS requirements)
Identifying, integrating and improving services
Partnership development in support of a Housing First approach
Working with the housing sector, including private and public local real estate and landlord associations to identify opportunities for and barriers to permanent housing
The maximum amount of funding available for the RFP is approximately $ 550,000 for a contract period starting no sooner than October 1, 2015 and ending no later than September 30, 2016. The total number of projects funded and the amount of funding per project will be determined based on the review and due diligence of the proposals received.
This will be a two-stage process: the RFQ and RFP. Only those respondents successful in the RFQ will be eligible to submit proposals under the RFP. Guides and forms are dedicated to either the RFQ or RFP. The General Guide II (link below) with program definitions is also applicable to this process. Interested and prospective respondents are strongly advised to attend information sessions, review application guides, application forms, submission guidelines and application criteria for each stage.
Additional Information for prospective respondents: Housing First Resources
The Request for Qualifications deadline for responses is 12:00 pm, July 31, 2015.
RFQ & RFP INFORMATION SESSIONS STRONGLY RECOMMENDED.
REGISTRATION REQUIRED by July 16.
---
Information sessions will be offered on July 17 and July 22. It is strongly recommended that prospective proponents attend. Registration required by July 16. To register, please write to HPSCE-MV@metrovancouver.org with "HPS RFQ & RFP Info Session Registration" in the subject line with your name, organization and the number of people who will attend in the body of the message. Additional information available at http://www.metrovancouver.org/services/regional-planning/homelessness/about-hps/
Register for RFQ & RFP information session
Questions about your RFQ Submission
Finished completing your RFQ form and collating the mandatory documents?
Submit RFQ Response (electronic version only – hardcopies must be received by 12 pm July 31 as per submission requirements in the RFQ guide)
---
STRATÉGIE DES PARTENARIATS DE LUTTE CONTRE L'ITINÉRANCE (SPLI)
DEMANDE DE QUALIFICATION 2015
(English version above.)
Le Greater Vancouver Regional District (GVRD), à titre d'entité communautaire pour la Stratégie des partenariats de lutte contre l'itinérance (SPLI), en partenariat avec le Comité directeur régional en matière d'itinérance (CDRMI) et le conseil consultatif communautaire (CCC), sollicite des réponses à une demande de qualification (DDQ) pour des activitées de mise en œuvre de l'approche Logement d'abord. L'objectif est d'établir une réserve de candidats qualifiés qui pourront répondre à un appel de propositions (ADP) subséquent pour soutenir la mise en œuvre du plan communautaire de la SPLI dans la région métropolitaine de Vancouver pour la période 2014-2019. Aux termes de l'ADP, un financement peut être proposé pour l'une ou plusieurs des activités suivantes de mise en œuvre de l'approche Logement d'abord :
Détermination du modèle Logement d'abord à adopter (en respectant les critères de la SPLI)
Identification, intégration et amélioration de l'offre de service
Établissement de partenariats en appui à la mise en œuvre de l'approche Logement d'abord
Collaboration avec le secteur du logement, y compris les agences immobilières locales, privées et publiques, et les associations de propriétaires pour trouver de possibles logements permanents et déterminer les obstacles à l'obtention d'un logement
Le montant maximal de fonds disponibles pour cet appel de propositions est d'environ 550 000 $ pour une période de contrat commençant au plus tôt le 1er octobre 2015 et se terminant au plus tard que le 30 septembre 2016. Le nombre total de projets financés et le montant du financement de chaque projet seront déterminés suite à l'examen des propositions reçues et à leur traitement selon des principes de diligence raisonnable.
Ce processus comportera deux étapes : la DDQ et l'ADP. Seuls les répondants retenus à l'étape de la DDQ auront le droit de soumettre une proposition en réponse à l'ADP. Les guides et les formulaires sont propres soit à la DDQ, soit à l'ADP. Le Guide général II (voir le lien ci-dessous) contenant les définitions du programme s,applique également à ce processus. Il est fortement recommandé aux répondants intéressés éventuels d'assister aux séances d'information et de lire les guides de demande, les formulaires de demande, les directives pour la soumission et les critères de demande pour chacune des étapes.
Renseignements additionnels pour les répondants éventuels : Ressources pour l'approche Logement d'abord
La date limite pour recevoir les réponses à la demande de qualification est à midi, le 31 juillet 2015.
IL EST FORTEMENT RECOMMANDÉ D'ASSISTER AUX SÉANCES D'INFORMATION SUR LA DDQ ET L'ADP.
INSCRIPTION REQUISE d'ici le 16 juillet.
---
Des séances d'information seront offertes les 17 et 22 juillet. Il est fortement recommandé aux soumissionnaires éventuels d'y assister. Inscription requise d'ici le 16 juillet. Pour vous inscrire, envoyez un courriel à HPSCE-MV@metrovancouver.org, avec la mention « Inscription à la séance d'information sur l'ADP pour la SPLI » dans la ligne Objet et en précisant votre nom, votre organisme et le nombre de personnes qui y participeront. Renseignements additionnels sur le site : http://www.metrovancouver.org/services/regional-planning/homelessness/about-hps/
S'inscrire à la séance d'information concernant la DDQ et l'ADP
Questions à propos de votre soumission pour la DDQ
Vous avez terminé de remplir votre formulaire pour la DDQ et vous avez réuni les documents obligatoires?
Soumettre une réponse à la DDQ (version électronique seulement – les copies imprimées doivent être reçues d'ici midi, le 31 juillet, conformément aux directives de soumission énoncées dans le Guide de la DDQ)
________________________________________________________________________________________
Regional Homelessness Plan (RHP)
This draft Regional Homelessness Plan (RHP) has been prepared by the Greater Vancouver Regional Steering Committee on Homelessness (RSCH). It will replace the RSCH's first regional homelessness plan prepared in 2001 and updated in 2003, known as 3 Ways to Home.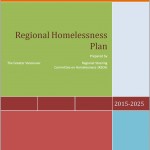 The goal of this RHP is to end homelessness in the Metro Vancouver region over a period of 10 years. To achieve this goal, the RHP is focused on 3 areas: Housing, Prevention + Support, and Capacity Building.
The RHP identifies indicators of success and targets to help measure success in achieving the plan's goal and objectives. It is proposed that the RHP be considered a 'living document' and that it be monitored every three years to determine if targets are being met and if they need to be revised.
Please find the most recent document here Draft 2014 Regional Homelessness Plan Sept 26 2014.jpg_
---
2014 Homelessness Action Week October 12 -18th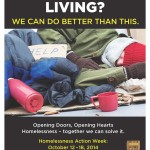 Homelessness Action Week is an annual event which focused on bringing public awareness and understanding to the issue of  homelessness in the Greater Vancouver region.
Homelessness Action Week was an opportunity to get involved in activities in your community.  Through spreading the word about homelessness action through education, advocacy, and social media activity the hope is to raise awareness to this very important subject which affects all our communities.
See what happened this year in these communities!Burnaby, Vancouver, Richmond, New Westminster, Surrey and Maple Ridge/Pitt Meadows!
n m
ory clickng ontheimages below.
---
---
On March 12, 2014, Metro Vancouver partnered with Community Homelessness Tables, municipalities, and about 1,000 volunteers to collect the data. More representative results are expected, with about 300 more volunteers than last time, and with the addition of a Youth Steering Committee for this Count.
The RSCH would like to know if you find this report useful and welcomes your feedback. Please let us know if you use the information and provide comments to: RSCH@metrovancouver.org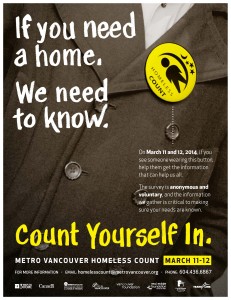 The Metro Vancouver Homelessness Count happens every 3 years and helps to better understand the numbers and characteristics of Metro Vancouver's homeless population. This information is important to service providers, planners, community groups, health authorities, municipalities and funders to assist with developing policy, planning, and prioritizing programs and services to address the needs of people who are homeless.
To view previous years reports please click here
________________________________________________________________________________________
Developed to assist other Canadian communities that are interested in adopting the Housing First approach.
Primarily based on the experiences of the At Home/Chez Soi project, we have assembled tools and resources that are practical and user-friendly for groups and communities interested in the Housing First approach. It is targeted to practitioners, planners, government policy-makers, researchers, and people with lived experience of homelessness and/or mental health working in the housing/homelessness sector, health/mental health sector, and stakeholders in related sectors.
---
elessns Action Week
Every October, on e week following Thanksgiving Monday.