Homelessness Action Week is an annual event focused on bringing public awareness and understanding to the issue of homelessness in the Greater Vancouver region.

Homelessness Action Week is an opportunity to get involved in homelessness action in your community by attending events, and spreading the word about homelessness action through education, advocacy, and social media activity.

Learn more by clicking on the images below.

 
 
Press releases:
8th annual Homelessness Action Week to draw attention to major issue of Invisible Homelessness in Metro Vancouver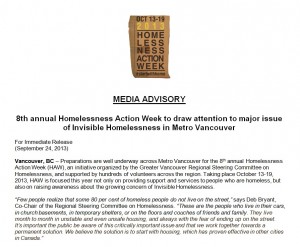 27/9/2013 : HAW 2013_FastFacts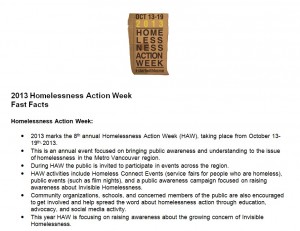 The Greater Vancouver   Regional Steering Committee on Homelessness is a coalition of community organizations and all levels of government. We believe that by working together, we can end homelessness in the Metro Vancouver area. Our work is guided by the Committee's Regional Homelessness Plan : Three Ways to Home.  Click here to download the Regional Homelessness Plan.