Homelessness Action Week
is an annual event which focuses on bringing public awareness and understanding to the issue of homelessness in the Greater Vancouver region.
Homelessness Action Week is an opportunity to get involved in activities in your community. Through spreading the word about homelessness action through education, advocacy, and social media activity, the hope is to raise awareness of this very important subject which affects all our communities.
---
HAW 2019 was October 13-19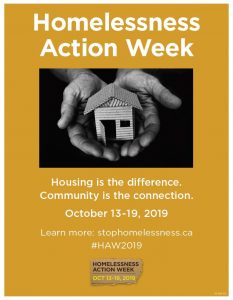 Homelessness Action Week 2019 took place October 13-19 across metro Vancouver and the Fraser Valley.
Across Metro Vancouver and the Fraser Valley, organizers prepared for the annual Homelessness Action Week made possible by the region's Council of Community Homelessness Tables.
The week included Homeless Connect service fairs for people who are homeless, public events like film nights, and a public awareness campaign.
This year's theme was "Housing is the difference. Community is the connection."
Events were planned throughout the region, including Homeless Connect events for people who are homeless or insecurely housed. Find details of HAW events in municipalities across the region in the drop down menu under Homelessness Action Week.
Download our 2019 Media Release here.
---
Last Year:
Homelessness Action Week 2018 took place from October 7 to 13 2018. Homelessness Action Week Events took place in the regions below.