Homeless people may live on the floors and couches of friends and family, in their cars, in temporary shelters, and many other discreet places that remain hidden from public view. Though invisibly homeless, they are equally in need of a permanent, secure home.  Such places are unstable, are often unsafe, and can easily result in ending up on the street.
Each homeless person has his or her own life circumstance that led to homelessness. This could include employment loss, economic downturn, fire, illness, a traumatic incident, physical disability, family breakdown, abuse, mental illness, drug addiction, and/or other physical disabilities.
It can happen to anyone regardless of income, status, education, lifestyle, age, race, or gender. The faces of invisible homelessness are diverse : seniors, youth, women, families, the working poor and Aboriginal peoples increasingly vulnerable groups.  The 2011 Metro Vancouver Homeless Count found that the proportion of seniors, youth, women, and families in the homeless population is increasing, and the proportion of Aboriginal peoples ranging between 27 per cent and 32 per cent of the homeless population since 2005.
This issue affects us all.  Only last year, an Angus Reid public opinion poll found that that nearly 1 in 4 (23%) Lower Mainland residents knew someone who is or was homeless in the past five years.
Why is a home so important?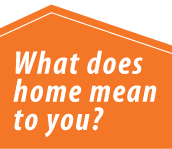 The importance of a home cannot be overstated. It's more than just a roof that keeps you dry. Among many things home is a place of safety, nourishment, refuge, comfort and dignity. A safe and stable home is necessary for food security, health, self-sufficiency and positive relationship with others. Home makes a healthy and productive life possible.
Acquiring and maintaining a home takes hard work, but when life challenges inhibit the ability to access the support or the income needed to maintain a home, a healthy life becomes further from reach and can even seem unattainable.  Such situations are exacerbated when someone becomes visibly or invisibly homeless, making recovery further from reach.
Treating the symptom or the cause?
Interventions such as food programs, addictions counselling, mental and physical health services, employment skills training, outreach and shelter are critical to supporting individuals in acquiring or maintaining a home. However these interventions have limited success if people are unable to obtain safe, stable, and secure housing that provides them with a solid foundation from which to tackle their challenges.
What's the solution?
There is a way to permanently solve homelessness. The most successful and cost-effective solution is to start with a permanent home.
* HOMELESS HUB. 2013. HOMELESSNESS: SOCIAL EXCLUSION.