Surrey Homelessness & Housing Society
Website: http://surreyhomeless.ca/
2018 Homelessness Action Week Events
Tuesday, October 9
Socks & Sandwiches
11:30 am – 2:30 pm
Easy Does It Club,
7277 King George Blvd
For the client demographic, and not limited to homeless (if you are in need, then come).
Sponsored by the Realistic Success Recovery Society.
Wednesday, October 10
Connect Day
All Day
Town Centres in Surrey
For the people who are currently homeless and or at risk of homelessness (if you or someone you know is homeless, please let them know).
Outreach staff from Surrey organizations connecting with people who are street homeless throughout the town centres in Surrey. People will be supplied with care packages and a bag lunch.
Sponsored by the Surrey Homelessness and Housing Task Force.
Supper and Clothing Giveaway
6:00 pm
Fraser Regional Aboriginal Friendship Centre
Thursday, October 11
FRAFCA's "Homeless Action Week Event"
Free Clothing & Bring your own Bag
4:00 pm – 7:00 pm
Fraser Regional Aboriginal Friendship Centre Association
(13639 – 108 Ave. Surrey). Phone: 604-595-1170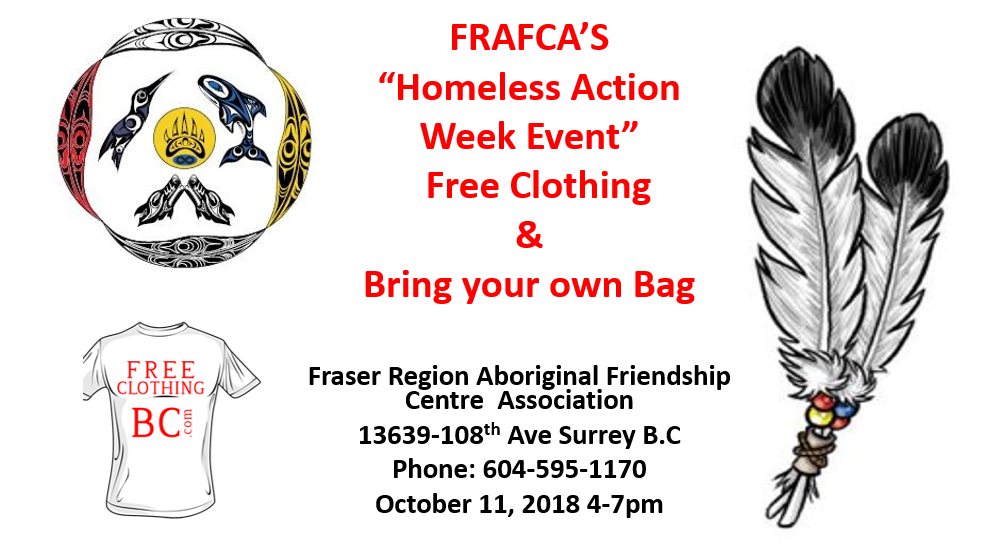 Friday, October 12
Homelessness Awareness Rally & March
11:00 am – 1:30 pm (
Registration opens at 10:30 am).
Sources Newton Resource Centre
(#102 – 13771 72A Ave. Surrey).
Everyone welcome!
Coast Capital sponsoring coffee and beverages prior to event start.
Lunch provided at 12:00 pm
Keynote speaker to be announced.