What's New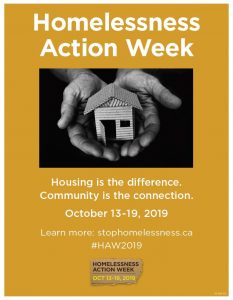 Homelessness Action Week 2019 takes place October 13-19 across metro Vancouver and the Fraser Valley.
Across Metro Vancouver and the Fraser Valley, organizers are preparing for the annual Homelessness Action Week made possible by the region's Council of Community Homelessness Tables.
The week will include Homeless Connect service fairs for people who are homeless, public events like film nights, and a public awareness campaign.
This year's theme is "Housing is the difference. Community is the connection."
As in previous years, events are planned throughout the region, including Homeless Connect events for people who are homeless or insecurely housed. Find details of HAW events in municipalities across the region in the drop down menu under Homelessness Action Week.
Download our 2019 Media Release here.
---
2018 Youth Homeless Count Report – Metro Vancouver Region (PDF)
Homelessness Action Week 2018 is October 7 to 13
---
Lower Mainland 2H Forum Presentations:
Surrey Housing First Collaborative
Lower Mainland 2H Forum – Transit Working Group – PechaKucha
Lower Mainland 2H Forum – HomeFront – PechaKucha
Videos:
Metro Vancouver Regional Homelessness Task Force – Video Gallery
---
Surrey Vulnerable Women & Girls Research Project – Report (PDF)
This research project has resulted in a wealth of input and ideas from the 50 women and female youth and 12 service providers in Surrey who participated in a focus group or interview from November 2014 to February 2015.
---
2017 Homeless Count Reports and Infographics
---
Housing Placement Toolkit (PDF)
Developing a Housing Placement Toolkit for Housing First – Project Report (PDF)
---
This web site is under development by new host, SPARC-BC on behalf of the Regional Homelessness Plan Group of the former Regional Steering Committee on Homelessness of the Metro Vancouver region.